this isn't an outfit post so much as a
detail
post. i wore a LOT of clothes by
finders keepers
over LFW (like, nearly every day). i discovered the brand nestled in the rails at the
greene and shepphard
pr's showroom, and instantly fell in love. they're an
aussie
label who make really cute, fun, summery clothes, the kind that make you curse british grey skies and wish you were in
LA
. but these aren't just simple and cutesy - the pieces are pretty sassy, and have a bit of bite. they're also pretty trend-led, rather than just churning out the same styles season after season. for example, the bright neon panels on the dress i'm wearing below. hello,
peter som
,
marc jacobs
and
jason wu
, to name a few. the little white dress is also huge for
summer
, and FK pulled it off perfectly. sure, we might have to wait a few months to get the best of the collection, but that shouldn't stop you dreaming.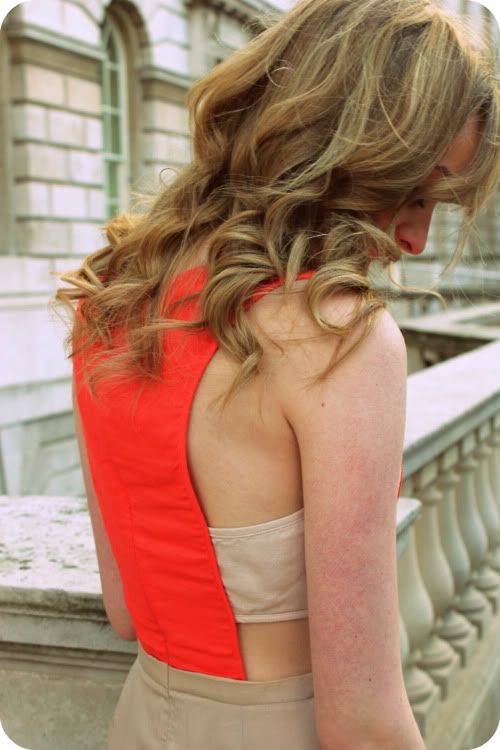 the rather lovely
jazmine
took these for
rare london's
blog at LFW. sure, i wouldn't describe finders keepers as
directional
, but they're fun. but more than that, they clearly take inspiration from the
catwalk
and find ways let it filter in their designs subtly. it's a nod to the trend, but also a massive thumbs up to fun and
flirty
. i think there's more than meets the
eye
here, i really do: the pieces are
beautifully
made, with good quality fabrics, and there's some real
statement
pieces. the below is from their look book - how cute is that lace number?
oh, and a little PS? if you're thinking about olympic fashion, and showing your support, pop over to argos to check out their
women's clothing
- it's all sports-ready!