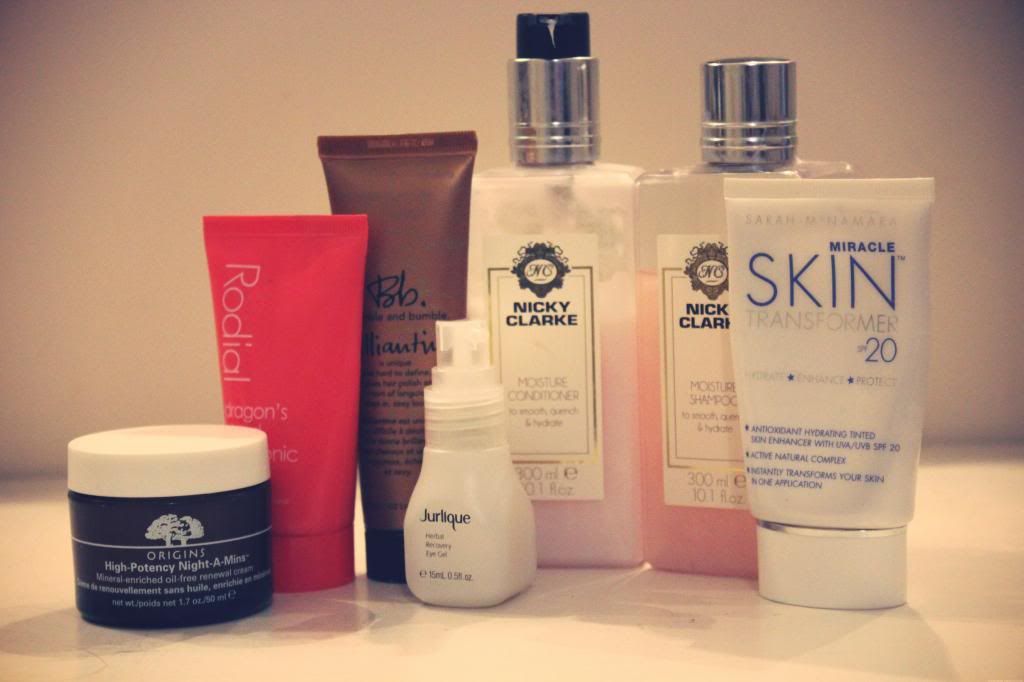 since i've been contributing to
grazia's beauty pages
, i've been even more inundated with products to research than ever before. my room looks like something from one of those
hoarder
tv shows - expect it's floor-to-ceiling
skincare, make up and hair products
. i've tried some less than impressive stuff this month, but these products have all shone out for me as
saviours
. all these products made a different from the
first use
, and continued to do so for me - i'm very skeptical these days as to lots of big beauty claims, and speak fluent "
back of the bottle
" but i was pretty floored by some of these. before using these, i'd say both my skin and hair were feeling a little
dry
and
lacklustre
, and are now packing the wow factor. first up is
origins night-a-mins oil free night cream
- my skin for some reason is sensitive only to moisturisers, and so many make my face go bright red and painfully
tingly
. even at night, thick formulations are too
sticky
for me (hello,
tacky
pillowcases) but this one is perfect. beautifully light, with an almost
gel
texture, it's perfect for
sensitive skin
like mine and makes me looks like i've had hours more sleep. i'll be buying this again.
rodial's dragon's blood hylarunoic acid mask
is next - i love a good clay mask, but my skin cries out for a
moisture injection
once a week, and this is my current favourite. i tend to leave it on
overnight
as it's light texture doesn't ruin my
bedding
, and being clear, it's perfect for
frequent flyers
. i wake up to plumped-up skin that's
baby soft
and ready to be frozen by the winter winds again.
bumble and bumble's brilliantine
is incredible for
wavy-ish hair
like mine - the tiniest pump defines
curls
, erases frizz and gives a slept-in, sexy look.
jurlique's herbal recovery eye gel
is beautifully cooling for tired eyes - the perfect
concealer primer,
and great for de-puffing after sleepless nights (i'm looking at you,
arrested
development
on netflix). i have colour and heat treated hair, but the
nicky clarke moisture shampoo and conditioner
make it look like i've never gone near my head with bleach or a blow dry. i used to use any shampoo, not realising it could make a
difference
, but this duo vanishes
split ends
and so vastly improves my hair texture, i can't imagine using anything else. a must-have in my shower. finally,
sarah macnamara's miracle skin transformer
- possibly the best primer i've ever used. its balm-like texture erases
slackened pores
and fine lines, mattifies shine, moisturisers AND has an
spf of 20
. it's the perfect partner to my tinted moisturiser and gives me super
healthy
skin. what have you been loving lately?