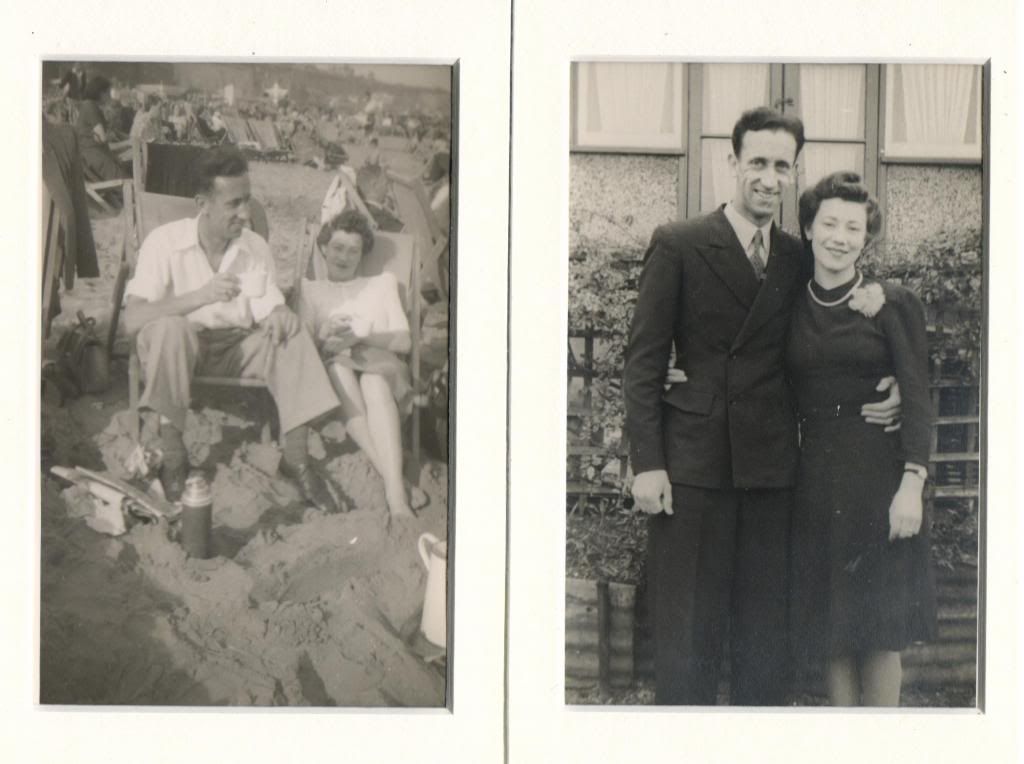 top: me and my nonna at my sister's graduation. bottom: my grandma and grandpa as young couple (possibly 20s!) in 1946
so, a few months ago, i had to kiss goodbye to being able to stomp my foot, slam doors and blow bubbles with my chewing gum. well, according to normal social conventions anyway. that's right, i turned twenty and left my teenage days behind me. i think nineteen to twenty is an odd birthday - overnight, you stop being a teenager but in no way feel a twentysomething, or even any more adult than you did before. don't get me wrong, i know that maturity, confidence and responsibility are gradual growths that you usually can't feel happening, but the connotations and freedoms attached to being a teenager are quite a lot to lose in one night. i know i'll never wake up one day and go "right! i'm a grown-up now!", but turning twenty did make me feel oddly directionless. so, i decided to ask a handful of women from a variety of professions, all of whom i look up to and have inspired me for their advice on how they're managing their twenties, or advice they'd give to their twenty-something self. whether you're eighteen or eighty, i think a lot of this advice is spot on - hope you enjoy it!
lucie muir, luxury and fashion writer and editor:
"if you ever dreamed of living abroad - getting an apartment and a job in paris, milan, new york.. and learning a new language/way of life then do it now. don't wait until you are in your 30's as life will have already got in the way. also, don't sweat the small stuff - you can do that later on. oh, and avoid faddy diets. your metabolism will thank you for it in decades to come!"
cate sevilla, online editor and journalist:
"my advice for anyone in their early twenties is to simply calm down. stop worrying. it's easy to over think and to over-process everything that is going on, but really, just take a deep breath. spend less time online and more time outdoors, or with friends. put your phone away and think about the quality of your friendships and your relationship with yourself. ride a bike. eat good food. don't waste every saturday morning hungover. travel. stop apologising for everything."


christina, beauty retail manager, biochemist, soon-to-be master of psychology and mum: "i

tell you what, my best advice is to start using an eye cream after you turn 22, moisturise morning and evening, use a decent sun protection and do a mask once a week! and don't overpluck your eyebrows.."
kristy cimesa, founder of elemental herbology: "
life is full of sliding doors, so when something really feels right, dive head first in."
susie, master of marketing, doctor of social anthropology and blogger: "b
iggest advice would be to stop taking things so seriously. the 20's are a good time to figure out who you are and want you want, but if you make a mistake here or there it's not the end of the world! also, it's a good time to evaluate your diet/lifestyle choices and skincare routine - if you start looking after yourself now you're really going to appreciate it later (it gets more difficult to get in shape when you get older, it's much easier if you already have some good habits in place.)
my nonna:
"you can lie to your priest because god knows the truth, but you gotta be honest with your doctor."
andrea pfeffer, founder, pfeffer PR and international badass: "be
adventurous! when i was in my twenties any excuse was good enough for me to get on a plane. book a round the world ticket and prepare yourself for a myriad of new possibilities and experiences. in your twenties open your eyes, be free and have fun!! you have all the time in the world to be serious so don't rush into it."
jen, consultant, writer and photographer: "being in your twenties is all about trying new things. this is the time to discover your passion and find out what you're good at. i'd recommend exploring everything you can! don't be afraid to fail. this is your time to figure out who you are and what you want to do. "
meg lucas, blogger, beauty writer and soon-to-be master of english literature: "i genuinely think now is the hardest time to be in your twenties. there seems to be an expectation, most often from pre-20s themselves, that you hit 20 with your first 'proper' job, fully formed political opinions, a potentially wed-able significant other, dinner that is regularly something other than coco pops - not to mention a PhD in pop culture (are Haim still cool? do you even care?). i think the best advice i've been given is not to compare yourself to other people. it's ok not to have an opinion on something (or several that change a lot), to be in a job you don't see a future in or date someone because they wear nice shirts. as long as you can see that's the situation, you'll keep moving forwards."
anne-marie lodge, blogger and writer: "don't rush to find love and settle down. you have literally your whole life to do that and if you haven't found 'the one' in your twenties it really isn't a deal breaker. wear SPF everyday and try not to bake yourself in the sun - fake tans will love you longer than real ones. don't be scared to do an edit on your friends. remember you both need to be getting something out of it! moisturise, moisturise, moisturise!"
annie fong, public relations account manager: "grab every opportunity that comes along and don't be afraid to take risks – spontaneity is fun and these are your best memories!"
kirsten sinclair, photographer: "it's important to keep evolving and improving as a person - none of us are perfect. be humble, never boastful, learn from your mistakes and don't be scared to say sorry and thank you. treat people how you want them to treat you. don't get too overwhelmed by others who are more successful than you - instead learn from them and let them inspire you."
claire, magazine junior sub-editor: "i'll let you in on a secret. i don't really know what i'm doing! i think my 'success' (if that's what we're calling it) is down to a mixture of hard work and being in the right place at the right time. i always try to be kind, see the positive in any situation (even if it's really tough and all i want to do is cry!), help others where i can and have a smile on my face as i do it. most of all, i do things that make me happy."
sabine menzel, photographer: "i'd say to my twenty year old self:

will it get better? yes it will. t

here is the right man for you out there. and you will find each other. l

ess drama does not mean more boredom. d

on't take yourself so seriously. t

hings are often not as they seem, and comparing yourself to others is a recipe for unhappiness.y

ou have far less control over your life than you think. therefore…e

njoy the ride.
and finally... my mum: "mum knows best."