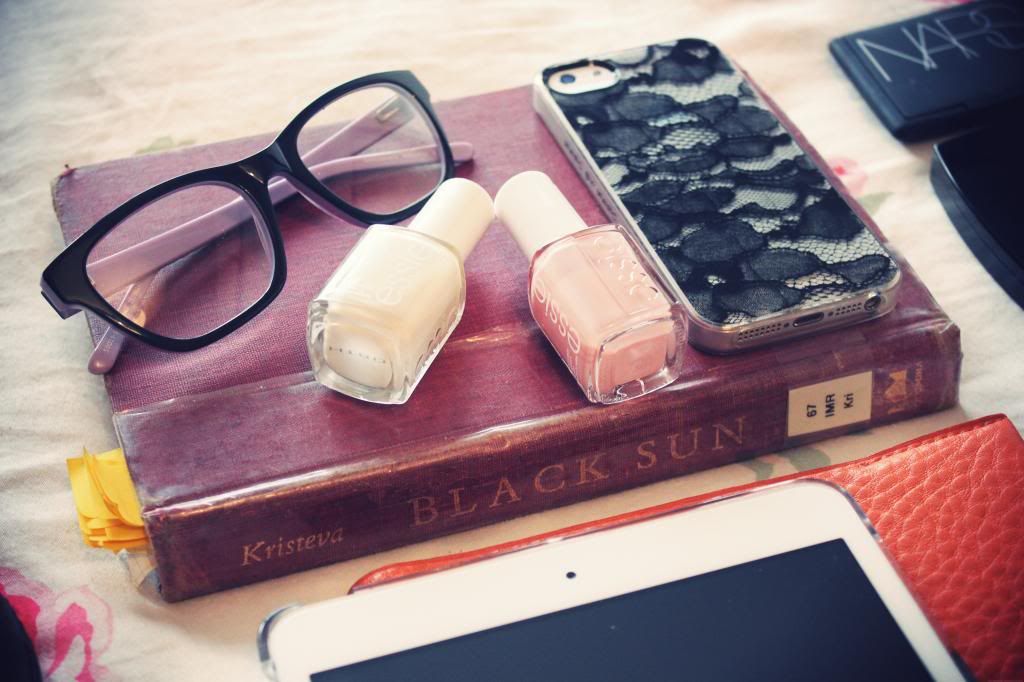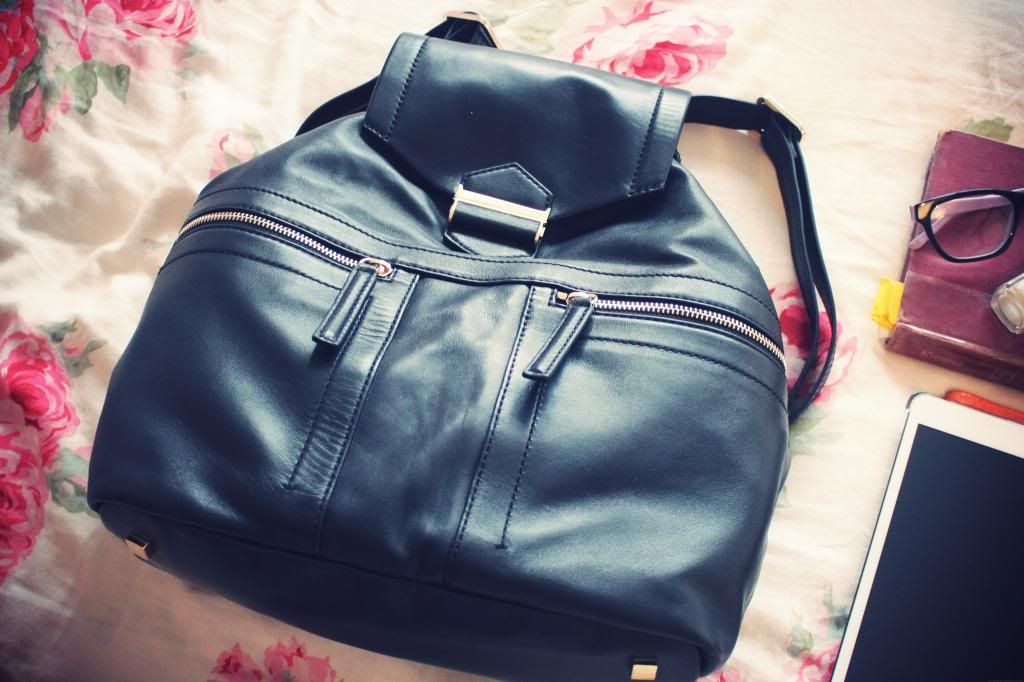 i have to admit, i love reading other people's
"what's in my bag"
posts - there's something so satisfying about getting to
snoop
on other people's handbag contents, neatly arranged and ordered. my everyday handbag has been
my reiss bag
, but it's a dainty handbag, and with a new term looming, i need something more robust for all my books. my new
backpack
(yes, backpack) is from
M&S's new fancy-smancy collection
- it's 100%
leather
and so gorgeously made. i plumped for a
backpack
so when i carry heavy tomes, the weight's a bit more evenly
distributed
, and i don't end up with one bruised and battered
shoulder
. the whole collection of accessories is so lovely and well-made - we're talking impeccable
quality
and all those little extras (lining, helpful pockets, discreet clasps) that make it look five times the price. anyway, i'm currently carrying my
iPad
(for on-the-go
tiny wings
) and my iPhone 5 which is currently sitting
pretty
in a new
marc jacobs
jacket. i can't be without at least my phone - whenever i nip out without it, i feel really weirdly lost. and then i do get lost, and there's no
google maps
to help.
i invariably have make up; there's my
chanel
compact for post-tube touch ups and checking if i've got food on my face, and my
NARS
duo blush if i suddenly need a pick me up. i always have a handful of
lipsticks
rattling around at the bottom of my bag but these are my most reached-for;
kate moss
for rimmel's 02, a perfect deep pink,
MAC creme cup
for barely-there
pouting
, and NARS
heatwave
for when i've had
zero
sleep and look a state. red lips = perfect distraction from eye bags. my
capulet
pass case keeps all my touching in and out
stylish
, and i usually have a polish or two; i love essie's
not just a pretty face
and allure for demure nails. newer additions to my bag beauty haul are the
le soft perfume stick
which smells divine, and
john frieda's full repair flyaway tamer
. if you have fine hair like me, this is a life saver. a little
mascara
wand steeped in non-greasy, clear product, it settles
frizzy
hair and unruly fringes back into place. honestly, when you've been out in london's
trademark
fine rain or humidity, it's perfect.
finally; my thesis bits and pieces. my
coach
notebook for critical notes, essay planning, to-read lists and mind mapping, and my glasses and a book or five. i'm currently doing a tertiary reading of
julia kristeva's black sun
. it's not to be read while listening to
the smiths
. what's in your bag?